Vertebroplasty & Kyphoplasty
X-Ray Medical Group's interventional neurointerventional radiologists perform vertebroplasty and kyphoplasty at Sharp Grossmont Hospital in La Mesa, CA.
---
What is Vertebroplasty?
Vertebroplasty is a minimally invasive techniques used to treat painful fractures of the spine.  The patient lies on his or her stomach on a specialized procedure table.  Intravenous sedative medications and local anesthetic agents are given to assure patient comfort.  A Specialized needle is introduced into the broken bone in the back using fluoroscopy (x-ray) camera to assure safe positioning.  Medical cement (polymethyl metharcrylate) is then injected into the bone to stabilize the fracture.  Patients typically return home two hours after completion of the procedure.  Roughly eighty-five percent will experience significant improvement or resolution of their pain.
For more information on Vertebroplasty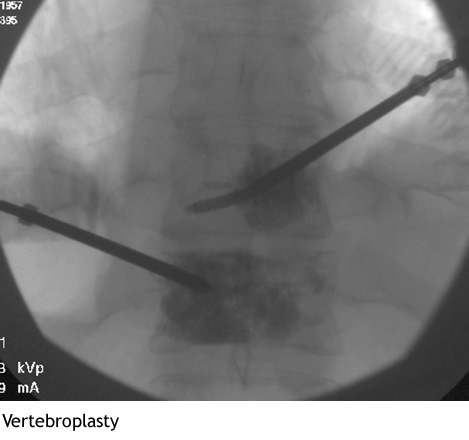 ---
What is Kyphoplasty?
Kyphoplasty is a technique related to vertebroplasty.  The procedure differs in that a specialized balloon is placed into the fractured bone prior to cement injection to better expand a compressed bone and create space into which to deposit the cement.
For more information on Kyphoplasty
---
When are Vertebroplasty and Kyphoplasty performed?
Vertebroplasty and Kyphoplasty are performed when pain related to a fracture in the mid to lower spine fails to respond to conservative therapy such as pain medications and rest.  The procedure can be performed anytime from a few days to a few months after the fracture occurs.  Potential candidates are evaluated prior to the procedure by one of our interventional or neurointerventional radiologists.  Patients require a physical examination of the spine, plain radiographs (x-ray), and an MRI.  CT or bone scan prior to procedure.