James C. Jacobsen, M.D.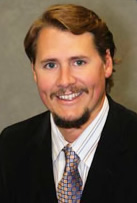 James Christopher Jacobsen, MD graduated from Texas A & M University College of Medicine in 1999. He completed a residency in Diagnostic Radiology at Scott and White Memorial Hospital and Clinic and a fellowship in Vascular and Interventional Radiology at the University of California, San Diego. Dr. Jacobsen has interest in all areas of vascular and interventional radiology. He has spearheaded the Interventional Oncology program at Grossmont Hospital, which includes Radiofrequency Ablation and Trans-Arterial ChemoEmbolization, two therapies used in the treatment of some cancers. 
Dr. Jacobsen currently serves on the XMG Executive and Radiology Supervisory committees, and has previously served on the Endovascular Supervisory and Stroke Supervisory committees. He is also former Chief of Radiology at Sharp Grossmont Hospital.